Newer posts are loading.

You are at the newest post.
Click here
to check if anything new just came in.
December
27
2011
The Super Fast Way to Set Up a New PC
OVERVIEW: You will learn how to install dozens of awesome, free applications on your computer in 5 simple steps. No money, 200 Point IQ, or Back-Breaking Labor required!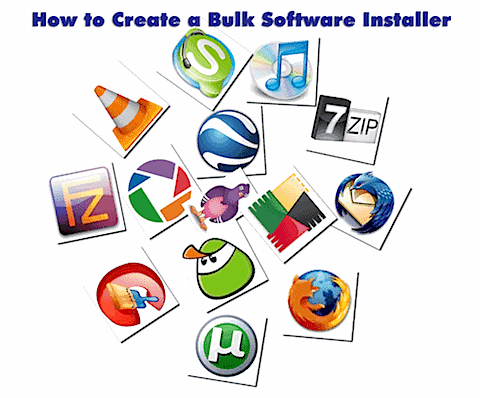 Once you get past the excitement of getting a new computer, then the aggravation sets in. You have to download and install all of the software that you need. This can take hours and hours even if you're organized.
You can spare yourself so much of the pain involved with this process by using a bulk software installation tool. I recently found a tool that creates an installer that automates the process of installing multiple applications.
Ninite.com gives you a selection of close to 100 free or open source applications that can be added to a 1-click installer. Some of these are my absolute favorite apps of all time. (Firefox, Skype, Digsby, Notepad++, DropBox, Evernote, and many more.)
Follow the steps below to create and run a Bulk Software Installer.
UPDATE: Wanna see how to do something very similar for Mac OS computers? Click here to see The Quickest Way to Set Up Your New Mac. (Jan. 5, 2011)
Creating the Installer
Open your browser and go to http://ninite.com.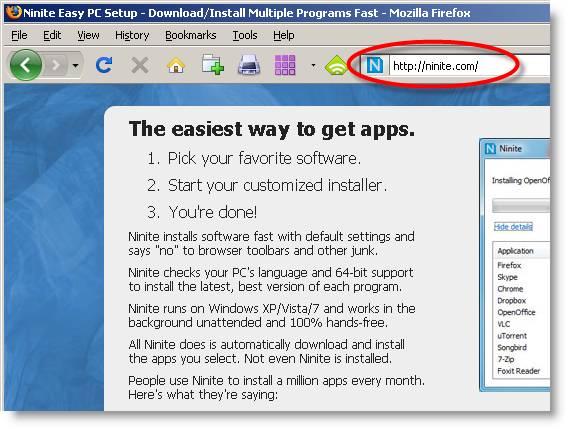 You will be able to select from a large collection of free/open source applications that are grouped into several categories.
Select the checkbox next to all of the applications that you want to include in your installer.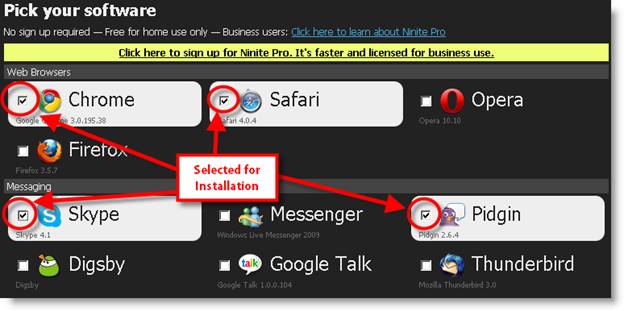 After you select all of the applications that you want to include in your installer, scroll to the bottom of the page and click the

button.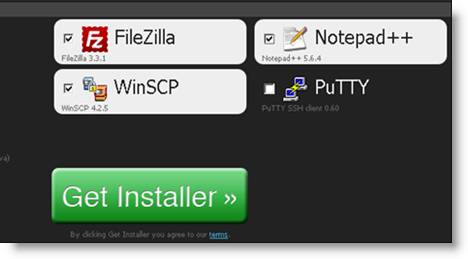 You will see the Download page. This page will display all the icons for all of the applications that you selected for inclusion in the installer. The click here to change apps link will return you to the previous page, where you can add or remove applications.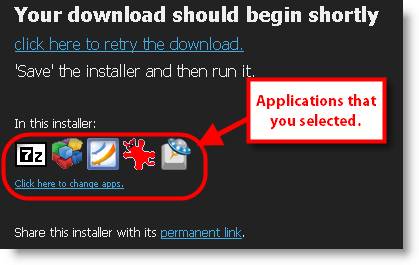 Your download should begin automatically. Use the click here to retry the download link if your download does not begin right away.
You can use the permanent link to get a link to the installer download page. This is convenient if you want to share this collection of apps with other users or computers.
Installing Your Collection of Applications
You can either save the installer file to your computer and launch it, or let it run automatically from your browser.
Saving the Installer to Your Computer
The installer's file name will include the applications that you selected.

Double click the installer file when it has finished downloading.
Automatically Running the Installer When it Finishes Downloading
If you elected to automatically run the installer when the download finishes, you will see the following window.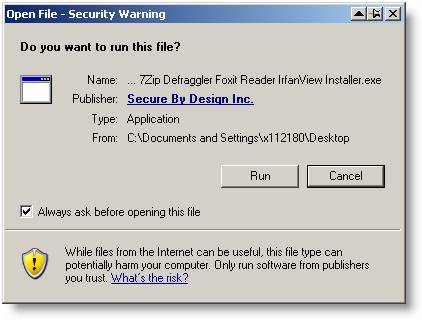 Click the

button to launch the installer.
This is actually the last action that you are absolutely required to take. Everything else runs on its own.
Monitoring the Installation Process
The installer file does not actually contain each applications installation files. It downloads them when it is run.

Click the Show details link to monitor the progress of your installation process.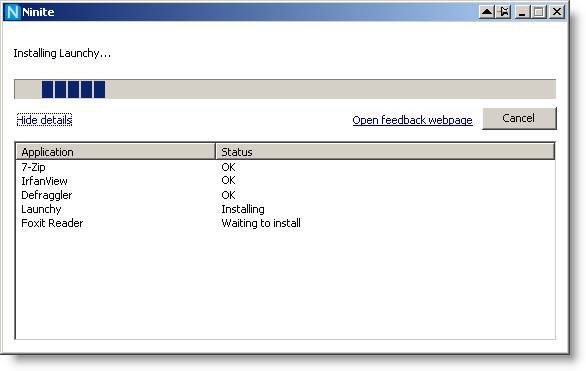 You will see the list of applications that you included in the installer. You will be able to follow along and see which applications have been downloaded and installed.
When all of your applications have been installed, you will see the following confirmation.

Click the

button to exit the installer.
That's it, all of your applications are installed and working as if they were each installed manually.
Printable Instrucitons
Click to Download a Printable Version of these Instructions.
See How it's Done
The following video tutorial shows how to Install Multiple Applications using a Bulk Software Installer.
What Applications Do I Bundle?
I put a huge list of applications by category at the bottom of this article. (I didn't want to break up the flow with a huge list.) You can also check out one of my lists of my favorite free applications:
22 Most Useful Free Applications for your PC (2009)
26 Best Free Mac Applications (2009)
32 Free Applications that I Could Not Live Without (2008)
What Applications Would You Put in your Installer Bundle?
I would love to hear what you think. Let me know what applications would you include in a Bulk Software Installer in the comments below. (List OS, then Apps.)
List of Suggested Applications to Include
Here is a list of some of the availabe applications that I highly reccomend:
Web Browsers
Google Chrome
Opera
Firefox
Messaging
Skype
Pidgin IM
Digsby
Mozilla Thunderbird
Media
iTunes
Songbird
Hulu Desktop
VLC
Winamp Lite
Audacity
Spotify
Imaging
Paint.NET
Google Picasa
GIMP
IrfanView
Inkscape
Documents
OpenOffice
Foxit Reader
CutePDF Writer
Security
Microsoft Security Essentials
Avast
AVG Free Anti-Virus
Malwarebytes' Anti-Malware
Spybot – Search & Destroy
Runtimes
Flash
Flash Player 10 for other browsers
Flash Player 10 for Internet Explorer
Java JRE
Microsoft .NET
Microsoft Silverlight
File Sharing
uTorrent
eMule
Utilities
ImgBurn
CCleaner
Launchy
Revo Uninstaller
Defraggler
RealVNC
TeraCopy?
CDBurnerXP
7-Zip
Dropbox
Evernote
Google Earth
Steam?
Developer Tools
FileZilla
Notepad++
UPDATE April 29th, 2010
Just found out about another very similar service AllMyApps.com. They have a nice collection of apps for Windows and Linux.
Did you Like this Article?
Sign up for free updates from VitaminCM.com?



See some of the other places where you can connect with me out there in the wilds of the internets.